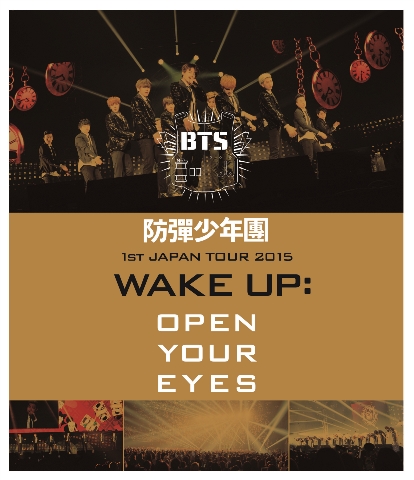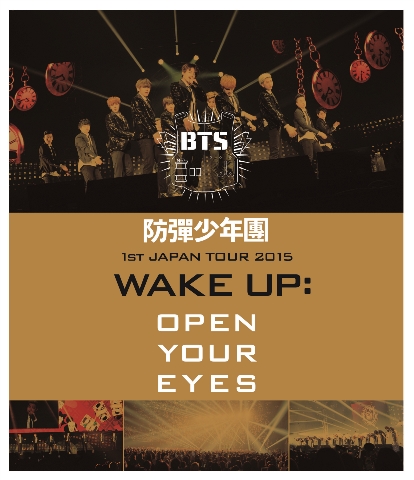 BTS 1st JAPAN TOUR 2015 "WAKE UP:OPEN YOUR EYES" Blu-ray
List of countries that service could not be provided
RUSSIAN FEDERATION,
UKRAINE,
BELARUS
BTS made their debut in Japan last June(2015), while releasing 3rd Single and the first full-scale album in approximately 6 months.
The album "WAKE UP" was ranked 3rd on Oricon Daily, and BTS is now one of the most highly attracted Hip-hop boy group.
Also simultaneously, The live video of the 1st JAPAN TOUR 2015 "WAKE UP: OPEN YOUR EYES" was released in Blu-ray and DVD formats.

This is a Live video work of the 1st national tour in Japan, "1st JAPAN TOUR 2015"WAKE UP:OPEN YOUR EYES", mainly including the performance at Makuhari Messe on 2/11, out of 6 performances held in 4 cities in Japan.
This includes valuable bonus footage, like behind-the-scene shot and excerpts from each live performance.
Main footage of the live performance and bonus footage in the DVDs will be the same as those on the Blu-ray version.

[DISC1]
1.INTRO.
2.Danger -Japanese Ver.-
3.WE ARE BULLETPROOF PT.2
4.WAKE UP
5.2nd Grade
6.Hip Hop Phile
7.Let Me Know
8.TOMORROW
9.I Like It
10.I Like It Part 2 ~At That Place~
11.Blanket Kick
12.JUST ONE DAY -Japanese Ver.Extended-
13.MISS RIGHT -Japanese Ver.-
14.IF I RULED THE WORLD
15.NO MORE DREAM -Japanese Ver.-
16.N.O -Japanese Ver.-
17.War of Hormone
18.BOY IN LUV -Japanese Ver.-
19.THE STARS
20.JUMP -Japanese Ver.-
21.Paldogansan
22.Attack on Bangtan -Japanese Ver.-

[Product number]
PCXP-50315
The actual delivery date will slightly vary depending on the region.